Whether you are an experienced gardener or a planting your very first plant, we all start off with the same activity, digging a hole. I imagine that for most people, and this is absolutely true for me, the actual digging of the hole is the most cumbersome part of the planting process.
The RotoShovel is a combination auger and shovel scoop promising to "drill through dirt, effortlessly digging holes in seconds for planting and landscaping". The RotoShovel comes complete with an eight-inch metal auger, a shovel scoop, and a battery with charger. Once assembled, it measures just under two feet long and is available for purchase on Amazon for $139.99.
Assembly
The RotoShovel is very easy to assemble and includes all the necessary components (an Allen wrench) to put together. I don't often use power tools, yet I was able to assemble the RotoShovel in minutes. The directions are straightforward and very easy to understand and follow. Battery charged quickly and I was able to start digging in less than one hour from the moment I opened the box.
The auger and shovel scoop have a nice weight and feel very sturdy. The handle is comfortable to hold, and the button is easy to hold and operate at the same time.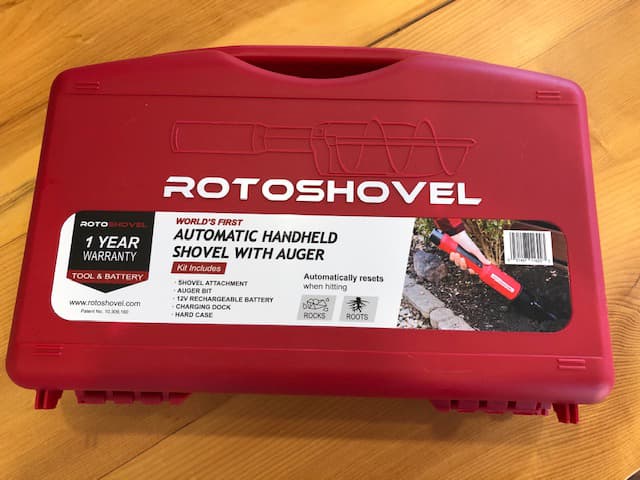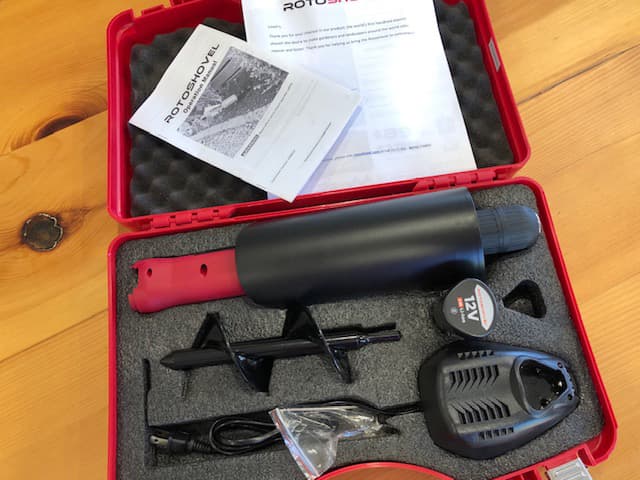 Performance
The RotoShovel was very easy to put together. The shovel scoop attaches with a little screw and tightens with an Allen wrench (included). The auger connects exactly like a drill bit would attach to a drill, which I found very easy and intuitive. While assembling and starting to use the RotoShovel, it was obvious to me that time and care was taken in the design to ensure that it was comfortable and easy to use.
The RotoShovel was able to dig through moderately hard dirt with ease and speed. I was able to dig a hole in both soft and moderately hard dirt in seconds with very little effort on my part. The RotoShovel shuts off when the auger hits something hard like a rock, which is a nice safety feature. I was unable to dig through very hard dirt.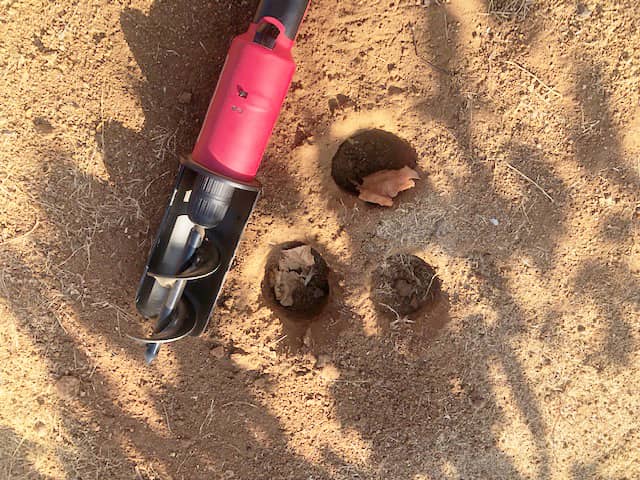 The Pros
The RotoShovel digs through soft and moderately hard dirt with ease and speed. I was able to dig holes in seconds with minimal effort on my part. The battery allowed me to dig holes in various areas without having to unplug and move a cord around. Also, it was incredibly easy to put together and to take apart.
The Cons
The RotoShovel is short (under two feet) and is a little awkward to try to use while standing. It is much more comfortable to use on a raised garden bed or when kneeling. I was unable to dig through rocky, hard dirt due to the safety feature shutting off the auger to prevent the throwing of rocks. But this safety feature may also be considered a benefit.
The Conclusion
The RotoShovel makes digging holes in soft and moderately hard dirt very fast and very easy. It is very comfortable to use and incredibly easy to put together. I would recommend using this product to dig holes in raised garden beds, or while sitting or kneeling. Having a power tool to take the work out of the digging process left me with a lot more time and energy to enjoy what I had planted.